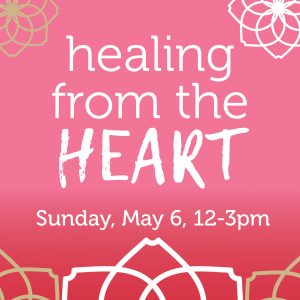 Put simply, our vision is to support heart connection and healing. When we live from our hearts and let love pave the way, answers become clearer and our view of the world begins to change. But what does it feel like to hear our heart and how do we find the courage to follow it's calling? During this workshop, community leaders and wellness practitioners will guide you through experiences and share tools to soften, listen, integrate, connect and rest into a place where you can Heal from the Heart.
Join us for an afternoon of connecting and listening to our hearts to find peace and healing from within.
---
Guest Speakers:
Geha Gonthier – B.A., LMT, ERYT, R.Ac
Alanna Prather – HeartMath® Coach
Mandy Trapp – Owner of Lifestyle Meditation
Roberta Shephard – HHP, Edmonton's Flower Essences Aficionado
With sound healing by Zana Ohe and Carlisle Lane
When: Sunday, May 6th, 12-3pm
Where: Roots on Whyte Conference Room. 3rd Floor 8135 102 st
Investment: $70
Bring: A yoga mat, blanket, pillow, eye pillow and water bottle. Chairs will be available. Please wear loose, comfortable clothing.
REGISTER